Why Neptune Blanket?
We're Aussie - There's no better feeling than helping each other deal with Stress, Anxiety, Insomnia, Mental Health and simply to Relax. That's what mates do. 
Our Weighted Blankets are created with the best of premium materials and the latest stitching tech. You use it every day, so it needs to last.
Sooner better than later right? OK, how about same business day dispatch? Order before 12 noon and we'll get it on its way.
Australian Register of Therapeutic Goods #305060
SHOP NOW
Households with Kids? You need THE MELLOW MAT®
Same day dispatch
Free AUS shipping
30 day guarantee
Peaceful nights
1 year warranty
The Neptune Project
The Neptune Project is our way of being a support system for those that need it most. Every month we'll work with a different organization to find ways to give back to our community, and we'll continue to widen our abilities to help the disadvantaged.
READ MORE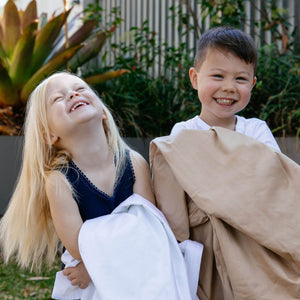 The benefits of a weighted blanket
Thinking of purchasing a weighted blanket? Plenty of people in Australia are doing the same thing. Buying for yourself, a family member, or a friend? Fantastic idea. The benefits of a weighted blanket extend far beyond a good night's sleep.
Your health and well-being are paramount. Discover how a weighted blanket can transform the way you feel.
Reduce stress levels
Between work, family, and social responsibilities, we can fast become overrun with tasks, activities, and deadlines. Feeling stressed is totally normal – but it can be detrimental to our health and happiness. With its deep touch pressure and snug feel, a weighted blanket can help relieve stress in both children and adults.
Helps those living with sensory processing disorder
Sensory processing disorder can feel like a traffic jam in your brain. Information comes in but then becomes muddled and clogged. Unfortunately, this can result in anxiety and panic attacks, two symptoms that can make day-to-day tasks difficult. The calming effect offered by a weighted blanket can aid kids and adults with sensory processing disorder.
Minimises anxiety
Anxiety is prevalent in Australia and across the globe. People of all ages can benefit from using a weighted blanket. These specialty blankets feel a lot like receiving a firm yet gentle hug, and this, in turn, can have a soothing effect on our minds and bodies. Strong feelings of anxiety can come up seemingly out of nowhere. Our blankets are the perfect portable solution – take a few minutes to rest and refocus under a weighted blanket on your couch, in your office, or even in your car.
Relieves restless leg syndrome
Ever felt a tingling or creeping sensation in your legs? Does it get worse when you are lying in bed or cooped up on a long drive or flight? You could be living with restless leg syndrome, a condition that can make sleeping difficult and, in some cases, lead to insomnia. Compression socks are often used to alleviate symptoms, and weighted blankets can provide similar relief.
Boosts focus for ADHD
Children and adults with ADHD (attention deficit hyperactivity syndrome) may find it challenging to focus on one task for an extended period. The deep pressure stimulation delivered by a weighted blanket creates a calming, nurturing effect that can improve moods, settle restless behaviour, and promote greater focus.
Shop top-quality weighted blankets in Australia
Discover the life-changing potential of a weighted blanket, and give yourself, a friend, a family member, or a pet, the gift of calm. Browse our range today, and please do contact our friendly team with any questions or concerns.